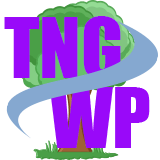 Thank You For Your Donation!
Your donation makes it possible to continue to develop the TNG plugins that can extend and enhance the integration between WordPress and The Next Generation of Genealogy Site Building (TNG).
Take a moment to visit A TNG-WordPress Integration website to learn more about this fabulous way to share your genealogy on your website.